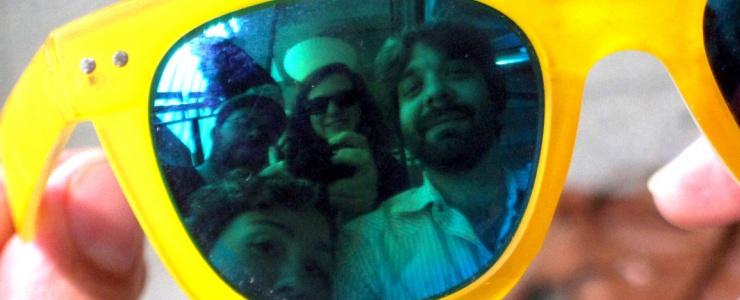 Friday, October 2, 2015 - 7:00pm
The Hands Free is an acoustic quartet comprised of four of today's most astonishing and multi-talented contemporary musicians: James Moore (guitar/banjo), Nathan Koci (accordion), Eleonore Oppenheim (bass) and Caroline Shaw (violin). Their music draws from a twisted array of folk, jazz and classical traditions to create lush sonic textures, intricate compositions and wild improvisations.
The impressive biographies of this group's members are impossible to ignore. Amongst Moore's constant flurry of musical activity was this summer's collaboration between his electric guitar quartet Dither and Yo La Tengo at the Lincoln Center Out of Doors festival. Koci plays both accordion and french horn extensively with chamber groups such as Red Light New Music and The Opposite of a Train, and also is frequently a music director on and off broadway including the recent critically-acclaimed bluegrass-infused reimagining of Oklahoma at Bard SummerScape. Oppenheim tours internationally with groups such as Philip Glass Ensemble, Victoire, Shara Worden, Bryce Dessner and Tyondai Braxton. Shaw, in addition to her violin prowess, is also a Pulitzer Prize-winning composer and a vocalist with Grammy-winning ensemble Roomful of Teeth.
Yet the on- and off-stage vibe of The Hands Free remains free of pretense and speaks to what the group truly is: a close-knit bunch of friends who get together to create and play music because they truly love it.

Friday, October 2, 2015
5pm - Gallery Opening
Carri Skoczek, portraiture artist
7pm - Concert
The Hands Free
Free
Shire City Sanctuary
40 Melville Street, Pittsfield, MA 01201

Fringe Music is made possible by the generous collaboration with Shire City Sanctuary and by the support of the Pittsfield Office of Cultural Development and the Local Cultural Councils of Pittsfield, New Marlborough, Stockbridge, Lenox, Hinsdale-Peru, Washington and West Stockbridge.