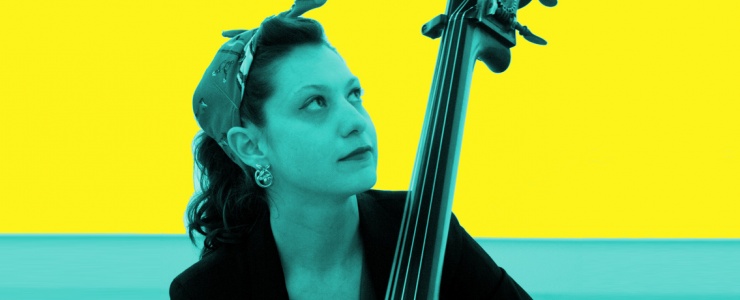 Friday, September 4, 2015 - 7:00pm
The Fringe Music series kicks off its season with soloist Eleonore Oppenheim presenting new works for the double bass that she has commissioned from some of today's brightest young composers.  Each work was composed within the past decade and the collection has been recently recorded for the upcoming release of her debut solo album Home.
"We as bassists have a conundrum," says Oppenheim. "As our technique evolves, and as we explore the ever-expanding possibilities of our instrument as a voice that can stand on its own, we need music to play that will grow and evolve with us. I am fortunate enough to have a number of talented and adventurous composer friends who all have an interest in pushing the limits not just of the instrument, but of preconceived ideas of genre and form."
"Quietly virtuosic" –Alan Kozinn, The New York Times

Friday, September 4, 2015
5pm - Gallery Opening
Susan Pettee, botanical artist
7pm - Concert
Eleonore Oppenheim, solo bass
Free
Shire City Sanctuary
40 Melville Street, Pittsfield, MA 01201

Fringe Music is made possible by the generous collaboration with Shire City Sanctuary and by the support of the Pittsfield Office of Cultural Development and the Local Cultural Councils of Pittsfield, New Marlborough, Stockbridge, Lenox, Hinsdale-Peru, Washington and West Stockbridge.